A brief thank-you note from Greg Cagle,
just after the LA Awards Ceremony. Nov. 14th 2013
My senses are still reeling. We have met so many nice people
and made so many new friends. I am so excited about the future,
AFB has become much more than a band for me. People of this
caliber are hard to find in my line of work, but I am very
proud to be associated with AFB. Not only as musicians, but
as friends. This group is so diverse in personality that it's
amazing, however, their work ethic and devotion to the art
is unequalled. A most sincere, "Well done!" to my partners
in crime. Alan Fox, Donnie Pendleton, Donny Hart, and the
one and only MR. Terry Salyer. I am ready for more.
gc.
Greg Cagle:
ETX Bass Player of the Year 2013 Greg Cagle vocals/bass,
was born in Tyler, TX. and attended
school in both Tyler and Whitehouse, TX.
He was formally educated on the saxophone.
At the age of 15, Greg took up the bass guitar.
He graduated from Whitehouse High School, and
then attended Tyler Junior College in Tyler ,TX.
for two years. While there Greg studied
Electronic Technology as well as Business and
Professional Speaking. Greg has been playing
bass professionally for approximately 30 years
and has performed in several local/regional night
club acts including NU/TATOO from Tyler, TX.
Greg has toured much of the south central U.S.
He joined the Alan Fox Band in November of 2009.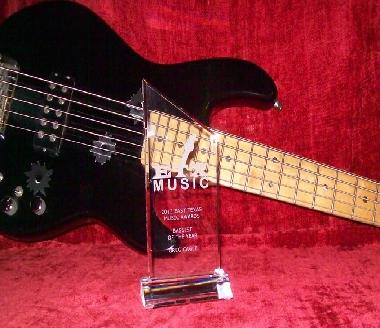 September 25, 2013
Palestine musician receives East Texas Music Award
By CHERIL VERNON Palestine Herald-Press
PALESTINE — Palestine's Greg Cagle was named the East Texas Music Award's 2013
Bassist of the Year last week.
Cagle, is a member of The Alan Fox Band of Fort Worth, a Texas original
heavy blues/rock band which has East Texas connections. Cagle moved to
Palestine in 1995, where he lives with his wife and daughter.
"I always thank the Lord Jesus for my blessings, because he is my Lord and Savior,"
Cagle told the Herald-Press when asked how he felt about receiving the award.
"The band has really been blessed. We have had a lot of things come our way this
year and we are really looking forward to what lies in the future."
Band members besides Cagle include Alan Fox of Carthage, Donnie Pendleton of Fort Worth,
Donny Hart of Arlington and Terry Salyer of Kilgore. The band is represented and
sponsored by Aaron Avenue Records in Texas.
Pendleton won Guitarist of the Year last year, and Cagle said that award moved the band up.
He hopes this award will do the same.
"It's a group project. Yes, I won, but this moves the Alan Fox Band forward as a unit.
I'm really happy for the band because it affords us more notoriety," Cagle said.
The band also received three other nominations from the East Texas Music Award:
Blues Band of the Year, Male Vocalist of the Year (Hart) and Guitarist of the Year (Pendleton).
The Alan Fox Band already has planned a trip to Los Angeles this Thursday for the
23rd Annual Los Angeles Music Awards, where they were nominated this summer for four awards.
The band has been nominated for "Music Group of the Year" and "Hard Rock Band of the Year"
with Hart nominated for "Male Vocalist" and Pendleton taking the nomination for
"Guitarist of the Year."
The band will get the opportunity to perform at the 23rd Annual Los Angeles Music Awards
at the world-famous Whiskey A Go Go in Hollywood, and also at the Avalon Theater in
Hollywood during the awards night Nov. 14. The Los Angeles Music Awards is open to
independent artists and bands who are unsigned or on independent ("indie") labels.
"Whiskey A Go Go is a thing of legend to people like us. All of our heroes — the bands we looked up to — they
played that stage," Cagle told the Herald-Press. "So, yes, our shoes are going to be hot when we perform there."
The band's latest single and video releases "She Makes Me Hot" and "Do Me"
are receiving airplay in the U.S. and abroad, both available on iTunes and CD Baby.
The band's newest tracks include "Never Learn" and "El Cabron."
While the band has been around for more than a decade, the current lineup started
building in late 2005, according to band members.
For more information about the band, visit their website at www.alanfoxband.com

For Booking Information and Fan Mail :
Contact AFB by email: -- donniependelton2017@gmail.com