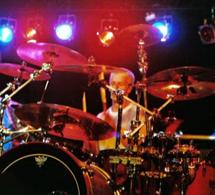 Moe Eldridge
Drums. Born September 24th, in Marshall, Texas.
He is into fast cars, rodeos, and drums! Moe is a
very seasoned professional that has graced some of
the largest stages in the world. He has worked with
some of the best musicians such as Keb Mo, BB King,
Wes Jeans, Bugs Henderson, and many more.
We are proud to have Moe on board.
Moe joined the band on February 10th 2007---Quit July 2nd 2011
"4 On the Floor"
the alan fox band