Alan Fox born on July 26th 1956
Started the Alan Fox Band project May 20th 2000
Donnie Pendleton -born- October 7th 1961
Donnie joined the band September 30th 2006
Greg Cagle born on 12-29-65
Greg joined the band on Nov. 9th 2009
*
Terry Salyer Born on 11.30.1954
Terry Joined the AFB project July 11th 2011
Donny Hart Born on 10.25.1963
Donny Hart joined AFB Nov. 2nd 2011
Tim Thomas back line tech. born on 2.28.1964
T-Wayne Ross on Keyboards
Joined the band August of 2012
and left the band in April 2013
Moe Eldridge born on September 24th 1959 died Feb.2nd 2016
Moe joined the band on February 10th 2007---quit for health reasons July 2nd 2011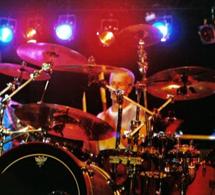 Moe Eldridge
Drums. Born September 24th, in Marshall, Texas.
He is into fast cars, rodeos, and drums! Moe is a
very seasoned professional that has graced some of
the largest stages in the world. He has worked with
some of the best musicians such as Keb Mo, BB King,
Wes Jeans, Bugs Henderson, and many more.
We are proud to have Moe on board.
Moe joined the band on February 10th 2007
Bubba Keith born on June 2nd 1950
Bubba joined the band on August 15th 2010
***********************
Alan Fox vocals/guitar founding member: May 20th 2000
Mike Gullespie drums founding member: May 20th 2000 - May 19 2002
Mike Gillespie passed away on Nov. 19, 2011
Jack Daugherty: Bass founding member: May 20th 2000 - July 5th 2005
Johnny Gilmour - Drums / 2002
Ron Whitaker - Drums / 2002
Stan Hoffman - Keys/Vocals Sept. 2nd 2005-May of 2005
Dave Michalic - Vocals/guitar 2005-2006
John Hoffman - drums - May 21 2005 - Feb.10th 2007
Alan "Sparx" Sparkman - vocals/bass July 2005- Quit to organize his own project band April 25, 2009
Tim Briggs born on Feb 28th 1958
Tim joined the band on May 3rd 2009--benched on Nov. 1st 2009 from a conflict with his day work.
Rodney Beale filled in on band aux. bass/sound Sept. 2009